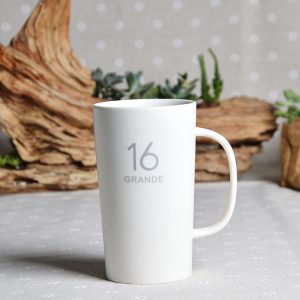 [name]: matt frosted digital mug
[Style]: No. 3 Cup No. 8 Cup No. 12 Cup No. 16 Cup No. 20 Cup
[Capacity]: See picture (manual measurement, slight error, capacity is around 8 minutes)
[Specifications]: (Other models see picture) 8 ounces Caliber: 7.7CM Height: 9.2CM (manual measurement, slight error)
[Weight]: ounce series (No. 3 cup 120g No. 8 cup 259g No. 12 cup 330g No. 16 cup 530g No. 20 cup 570g)
[Material]: Environmentally friendly ceramics
[Packing] No. 3 Cup 160 Pack No. 8 Cup 72 Pack (Box Rule 52*34*42CM) No. 12 Cup 60 Pack (Box Rule 57*28*53CM)
No. 16 cup 45 packs (box gauge 61*31*48CM) No. 20 cup 36 packs (box gauge 55*30*51CM)
[Custom LOGO] Yes,
Ceramic baking flower three steps
The first step: printing flower paper The second step: artificial decals The third step: 800 degrees roasted flowers
[Customized LOGO fee has 2]
First, the opening plate fee for the opening of the factory (calculated by color, 1 color, 50 yuan, 2 colors, 100 yuan, and so on)
Second, the cost of printing paper (calculated according to the area of ​​the LOGO, because the printed paper is a fixed size, the LOGO area is directly related to the number of typesetting.)
Delivery time: The custom production cycle of spot cups is 5-7 days.
Caliber 9.5CM
Height 9.5CM
Capacity 12oz  16oz  10oz…
New bone china
Export & domestic sale
Craft handle hand drawing glaze
Standard GB/T 3532-2009
Hunan. Liling.